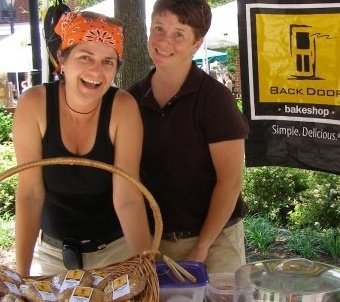 Once again, it's time for the Bethlehem Farmers' Market. We've been part of this for a few years now, and the market just gets better each year.
Our products have expanded, and we're sampling new stuff all the time. We know that once you taste, you'll be hooked. Even your pets have fallen in cookie love. Last spring we introduced Dog Biscuits - both cheesy and peanut butter - and well, we couldn't keep up with sales. Later in the summer we brought you Granola. That was a huge hit. Since then we've been making fresh batches every week.
Once summer rolled in you went wild for our fresh Blueberry Preserves and Blueberry Coffee Bread. Peach season came around and we wowed you with Peach Crumb Coffee Cake and Peach Jam. That was followed by apple season and that can only mean the most delicious Apple Streusel Pie on the planet (IMHO). And then it was fall. Pumpkin, oh great pumpkin. Pumpkin Bread, Pumpkin Pie, Pumpkin Roll.
Well, guess what? The market starts this week!
What are you craving? Tell us.
See you every Thursday, 11-3pm - Lehigh University Campus Square, Bethlehem, Pa
2011 Vendors: Key Ingredient Market (spreads and dips), Earth's Phocas (fresh flowers), York Moor Farm (fresh eggs and produce) and Around the World in 80 Cakes, Easton Salsa Co., The Popcorn Pit, A Natural Alternative (soaps and toiletries), Back Door Bakeshop, Humdinger Alpacas (wool products), Tasty Pastry, Lettuce Alone Farm (produce), Bechdolt Orchards (produce) and The Flour Shop Bakery
If you want more info, just drop us a note: info@backdoorbakeshop.com
- Dina and Gail